Playoff Scoring Module

For the playoffs a new simplified scoring module has been implemented. This will make keeping up with your scores and your opponent's scores much easier.
Managers have

nine (9)

supplemental playoff picks.
There is a
maximum limit of four
(4) adds and/or supplemental draft picks per manager per round. As always 'drops' are only allowed at the beginning of and prior to each supplemental draft round. Scoring is
position specific
unless otherwise noted.
Managers are highly encouraged to post their own scores
through the Yahoo message board within 48 hours after the last game. Forty eight hours after the end of the final game of the round,
posted
scores are considered final. Challenges made by opposing managers to another managers' score, within 48 hours of the score posting,
and
before the first pick of any next draft
,
that are upheld, are corrected by the commissioner. The commisioner monitors all scores and will post scores for other managers that choose, or fail, to post their own, with no review or appeal options for the un-posting manager.
The Kicker and Team Defense roster spots
may not be dropped.
By drafting or adding these volatile position(s) you assume their full risk-vs-reward potential as long as they win and remain on your roster. The "Kicker" position is a roster specific position, not a player specific position. ALL kicks by that Kicker's team count toward your totals. A more accurate draft or add claim would read "place kickers - ATL." You of course retain the option of not initially drafting, or ever adding any roster spot, including either or both of these. For more information see the main page (
click here
.)
Scoring: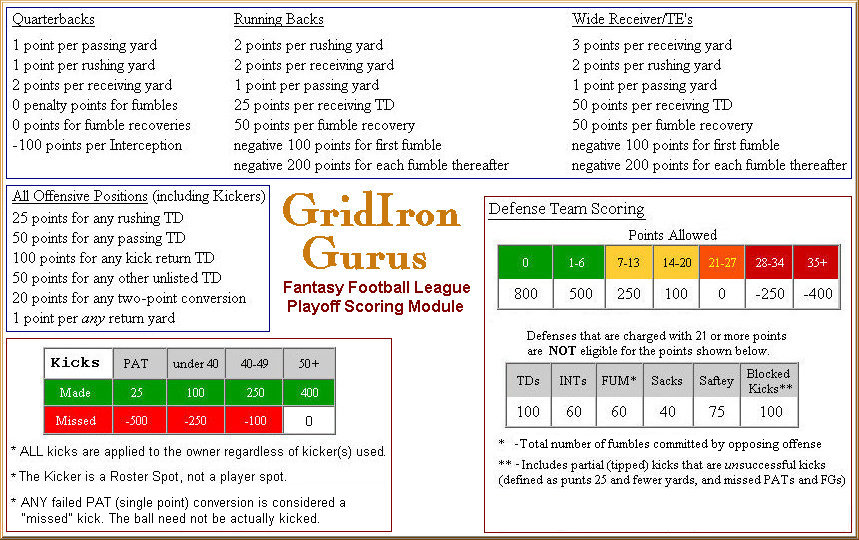 ---