Who are they...
Bloodhound - The Ultimate GridIron Guru - Leader in Championship Manager Points (CMPs)
Pulpman - Current and Defending GridIron Guru - Threatening Dynasty classification
MidSouth Africans - Extraordinary GridIron Guru - A Perennial Playoff contender
TennesseeToeStompers - GridIron Guru Champion - Leader of CMPs seasonal average
ghetto superstars - Noteworthy GridIron Guru - sophomore sensation guru looking for first playoff spot
Shanghai polluters - Rookie - marred in the paying dues stage, learning from the masters...
---
for league and playoff rules, league settings, the scoring (points) module, Gridiron Gurus League History,
The Championship

Manager

Point Series Scoring Table, and other help, visit the main page by clicking the link below...


This Season's Playoff Grid and Scoring is at the bottom of this page


Playoff drafts are tenatively scheduled for Thursday nights at 10:00 PM Central Time but may be altered to accomodate playoff participants.
---
---
Regular Season League Standings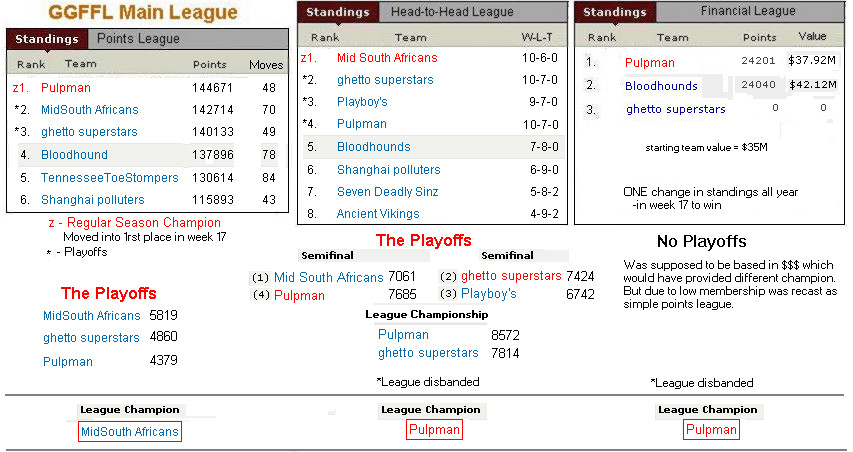 ---
The Playoff Races

Latests League News - 2/3/09

Pulpman roared home in the final week, week 17, of the season. In the Financial League he took his only lead in the standings in the last week to win the championship and the 5 Championship Managers Points (CMPs), and with that flip-flop over the bloodhound, took over the Championship Managers Points Series lead as well. The league was tainted however by low membership which stripped away the financial aspect of the league, turning it into no more than a points league, and allowing for Pulpman's title claim despite his team value being more than $4M lower than the #2 seed. The league was discontinued by the first resolution by the newly formed league security council.
Pulpman also won his game in week 17 of the head-to-head league, and combined with a bloodhound loss claimed the final playoff spot in that league. He went on to win the championship in that league. This league was also discontinued by the first resolution by the newly formed league security council.
Week 17 also saw Pulpman outscore the Africans 13K to 11K to wrestle away the regular season championship by less than 1000 points. But he faltered in the playoffs and finished third. Just how big was this home stretch surge? He gained 9 of his 33 CMPs on that one day, and 5 more 2 weeks later in the head-to-head championship game. His 15 CMPs this season even eclipsed the Africans 10 CMPs for the season and made him champion in 2 of the 3 GGFFL leagues.
However, since the two subordinate leagues were abolished and the points league reestablished and endorsed as the "primary" and now only GGFFL, the champion there, namely the MidSouth Africans, are designated as the "Defending GridIron Gurus Champion" - Brandon McInturff's first internal overall (playoff) title. This follows his first ever internal title as regular season champions in the now defunct head-to-head league weeks earlier.
---
Latest Update 12/29/08
Close Races? You decide. All three leagues come down to the wire as teams fell in to and out of playoff spots and championships with two league champions pole vaulting past last week's leaders to claim crowns, as the usual coulda-shoulda-woulda scenarios rattled through every managers brain, save one. Pulpman takes first lead and wins financial league in final week of the season, by 161 points out of almost 50,000 collective points scored. Literally sneaks backwards into the playoffs in the head to head league in the final week, sends the regular season champ home in a one-and-done deal, then wins that championship. Then has a big final week 17 in the points league outscoring the standings leader (who had more than 10,000 points) enough to snatch away that championship. Three championship won, not held on to, but won in one weekend. The 14 Championship Manager Points (CMPs) earned in just this one weekend propells him to the top of the CMP leader board, and passing of the mantle as Grand GridIron Guru. Busy week for Silent Storm.
---
Latest Update 12/9/08
How tight are the races for the playoffs? The
ghetto superstars and bloodhound have scored almost a quarter million points collectively yet are separated by a mere 275 points. But they are very big points because between the two managers is the dividing line between playoff participant and spectator in the Points League. And that's the equivalent of a single 25 yard pass, or a single fumble. Of course this is not uncommon in this league where the playoff title has twice come down to a 22 and 23 point difference.
And in the head to head league ghetto just defeated Pulpman 10458 to 10416 - a 42 point difference. That's a single 2 yards pass with the difference in the game being the difference between 3rd and 5th place, and again with the playoff qualifying line between them.
And the verdict is almost in on Pulpman's "bye" week experience (read below). After beating bloodhound 10308-10294 to win his 5th game in a row and rise to 7-3 and first place in
both
leagues, the Pulpster has lost 4 straight including the close game mentioned above. Now he needs help just to make the playoffs. He's in a true must win (loose and he's out) position and will have to beat the #2 seed and have at least one of the two teams above him (if not both) lose to the bottom seeded teams. But he has tightened the race in the financial league - once thought to be over and done with.
Yet as we approach the final game in one league and the final 3 in the other nothing had been decided. All three regular season championships are still up for grabs with only two playoff spots out of seven secured. Just how scrambled is it? One mere game behind these two teams is the ghetto superstars who, if he looses his last game could actually miss the playoffs (5th place), but if he wins (combined with a Pulpman win) would finish in second place - with the regular season championship a mathematical possiblity. Jeez. Confused? Well, let Al Davis help sort it out for you. If you want to make it to the playoffs around here - just win baby.
These razor thin lines might be accidentally possible in other leagues, but they are commonplace in our league because of the extreme quality of the participants. League founder bloodhound has helped create this melee by posting scores of 10,000 or more in 7 of his last 8 scores, including 3 of 12,000 or more, and scrambling into the final playoff spot in both leagues by the hair of his aging beard. Guess there's a little fight left in the old dawg yet. Where else you gonna find this level of competition? How's that for a competitive playoff picture? Wanna join another league? Be my guest. Be a bigger fish in a smaller pond. Win that $100 or 5 inch TV by winning enough random coin tosses against old ladies picking winners by the colors of their uniforms if that's what you're in to. But if you want to be a
real
champion among champions, a real GridIron Guru, you have to win
here
!
When Champions Collide
Latests League News - 11/18/08
There may or may not be a long-term "changing of the guard" taking place in the Gridiron Gurus Fantasy Football League, but there has definitely been changes at the top spots of both the head-to-head and points league within just the last weekend.
The Africans
, with 5 of the top 6 weeks of the year, and the only manager to crack both the 12K and 13K point barriers, have taken over first place in both leagues this week. But he had help. The African, a perennial playoff contender and by far the best manager in the league not to win
any
title
here
, seems poised to make his best run yet at a GGFFL Championship.
Pulpman
, the former leader in both leagues basically threw away his large lead in the points league by intentionally absorbing a heavily bye-laden week 2 weeks ago. And his insistence on riding out Reggie Bush's injury (combined with Lee Evan's blanking ) cost him the top spot in this weeks head-to-head league. No doubt he knows what he's doing, as evidenced in his successes the past 4 seasons, and surely he believes that the difference in scoring from those players will offset what he hopes to be temporary setbacks in the home stretch run for both leagues. But the simple math of the situation, especially as it pertains to Bush, would suggest Reggie needs to average more than 2000 points per week down the stretch to make that strategy pay off. History is written by the victors, so we shall see if his strategies work out to be genius or folly. But one fact is undeniable. He has, at least for the short term, said "bye" to the lead in both leagues.
The
ghetto superstars
continue their sophomore sensation season and the steady push toward the playoffs in both leagues, hoping not to lay down in the final week as in their first year. Their rise has the
bloodhound
in his typical place just outside the playoff fence looking in, trying to snatch a spot from an overconfident or sloppy manager. The Bloodhounds know full well the first step to a championship is surviving the torrid competition and getting
in
the playoffs.
The
TennesseeToeStompers
have for the most part struggled in their "return" to part of the Gridiron Gurus league, but remain a viable opponent and very much alive in the playoff hunt. And the
Shanghai polluters
have struggled mightily as well bringing up the rear in both leagues. But per their short historical modus operandi seem to be doing better as of late. It would be a considerable "moral victory" if they can get out of both cellars before season's end - a realistic goal in both cases.
The
Playboy's
you ask? Is the fact they are in playoff contention in the one league they're in beginner's luck? Perhaps. It bears questioning considering they are 16-24K points behind all other playoff contenders yet have managed to win enough to be 7-4. How they finish and how they do next year will go a long way to answering these questions. Only one thing is certain. It will be a wild and hairy scramble for the playoffs in both leagues - as usual. And per fact probably come down to the winners and losers being separated by a one-yard run, missed extra point or FG, or even dropped pass. Such is the fate when champions collide. Hey, that's a pretty good line, don't ya think? Beats "it's a coin toss" for the title...
---
10K Weeks:
(either League)
| | |
| --- | --- |
| Bloodhound (7) | 13880 |
| Mid South Africans (12) | 13584 |
| Mid South Africans | 13234 |
| ghetto superstars (9) | 13162 |
| Pulpman (7) | 12794 |
| ghetto superstars | 12659 |
| Playboys (2) | 12569 |
| Playboys | 12457 |
| Bloodhound | 12036 |
| Bloodhound | 12035 |
| ghetto superstars | 11851 |
| Mid South Africans | 11787 |
| Mid South Africans | 11428 |
| Mid South Africans | 11400 |
| Bloodhound | 11364 |
| Mid South Africans | 11242 |
| ghetto superstars | 11114 |
| Pulpman | 11104 |
| Mid South Africans | 11101 |
| Tennessee Toestompers (3) | 11065 |
| Mid South Africans | 11046 |
| Mid South Africans | 11036 |
| Tennessee Toestompers | 11024 |
| Pulpman | 10904 |
| ghetto superstars | 10767 |
| Pulpman | 10744 |
| Mid South Africans | 10630 |
| Pulpman | 10581 |
| Bloodhounds | 10572 |
| Tennessee Toestompers | 10532 |
| ghetto superstars | 10458 |
| Pulpman | 10416 |
| Shanghai polluters (2) | 10398 |
| Bloodhound | 10387 |
| Pulpman | 10308 |
| Bloodhounds | 10294 |
| Shanghai polluters | 10244 |
| ghetto superstars | 10195 |
| ghetto superstars | 10141 |
| Mid South Africans | 10111 |
| ghetto superstars | 10096 |
| Mid South Africans | 10001 |
---
something wrong? numbers not right? send corrections to the Commish here
---
---
The Playoffs:
Playoff Scoring by Round

| | | | |
| --- | --- | --- | --- |
| | Pulpman.. | Africans.. | ghetto.. |
| Wildcard | 1209 | 1476 | 1314 |
| Divisional | 1268 | 1999 | 1639 |
| Conference | 874 | 1437 | 1118 |
| Super Bowl | 1028 | 907 | 789 |
| Total Points | 4379 | 5819 | 4860 |
---
---
New Simplified Playoff Scoring Module

For the playoffs a new simplified scoring module has been implemented. This will make keeping up with your scores and your opponent's scores much easier. These changes were made easy due to the exclusion of the Kicker and Defense roster spots.
Managers now have

six (6)

supplemental playoff picks.
All TDs score 20 points be they passes, receptions, rushes, or kick returns. 2-point conversions are worth 5 points. One point per every 10 return yards. Fumbles are 50 points: 50 points lost when it leaves a player's hands regardless of who recovers it and whether or not it is a turnover (per NFL settings), and 50 points gained for the recovering of a fumble. So recovering ones own fumble equates to no penalty. Interceptions and lost kick "muffs" also draw a 50 point penalty. Rushes tally one (1) point each with two (2) points per yard. Receptions tally three (3) points per catch and three (3) points per yard. QBs get one (1) point per passing yard. This scoring module should equate to players who do what they should averaging around 300 points and up, with a potential for 400-500 point weeks, barring putting the ball on the ground or turning it over. The lower totals also make the first round byes still sting but more tolerable - per previous years settings. Simplified and charted, the scoring module looks like this:
Scoring:
Any Touchdown (20 points)
Interceptions (-50 points)
Any Fumble (-50 points) [kick "muffs" that result in a turnover is a 50 point penalty]
Fumble Recovery (50 points)
Passing Yards (1 point per yard)
Rushing Attempts (1 point per attempt)
Rushing Yards (2 points per yard)
Receptions (3 points per reception)
Reception Yards (3 points per yard)
Return Yards (1 point per 10 yards)
2-Point Conversion (5 points)

...

Note: Do not tally stats (reception, rushing attempt, yardage, INT, fumble, etc.)
---
Week # 1 - Wildcard Round
| | | |
| --- | --- | --- |
| Pulpman - 1209 | Africans - 1476 | ghetto - 1314 |
| QB | QB | QB |
| Peyton Manning - 329 | Matt Ryan - 109 | Donovan McNabb- 220 |
| Eli Manning - bye | Phillip Rivers - 197 | Kurt Warner - 269 |
| WR | WR | WR |
| Steve Smith (CAR) - bye | Larry Fitzgerald - 341 | Reggie Wayne - 419 |
| Roddy White - 305 | Desean Jackson - 111 | Anquan Boldin - 242 |
| Dallas Clack - 139 | Derek Mason - 225 | Vincent Jackson - 0 |
| RB | RB | RB |
| Brandon Jacobs - bye | Brian Westbrook - 413 | Chris Johnson - bye |
| Adrian Peterson - 246 | Deangelo Williams - bye | Michael Turner - 164 |
| Joseph Addai - 190 | Ledanian Tomlinson - 80 | Derrick Ward - bye |
| 0 picks used - 6 picks remaining | 0 picks used - 6 picks remaining | 0 picks used - 6 picks remaining |
.
Review:
(Posted by bloodhound): Pulpam goes for winners to last on roster with moderate points. The "long haul" approach. Africans go with "double the touches" (cathes and runs) explosive RBs, and only one bye. The "hit 'em hard and early" approach. ghetto goes to the air with primo recievers and big strike QBs, the "gunslinger" approach. Nice blend of strategies. History will decide who knew best. Good luck to all....
Results:
(Posted by bloodhound): Basically a mathematical tie as the point differential reflects the number of byes per manager.
Tactically Bugman in front as more players advanced meaning fewer supplemental picks will be needed to restore and fill his roster, and he has the number one draft pick coming up. ghetto hangs tough and in striking distance. Pulpman takes biggest hit as supposed and expected winners and advancing players simply don't do either. Lots of roster holes means he will have to use up a lot of picks to restore roster.
---
---
Week # 2 - Divisional Round

Pre Draft - ghetto drops Anquan Boldin; Africans drop
Ledanian Tomlinson
| | | |
| --- | --- | --- |
| Pulpman - 1268 | Africans - 1999 | ghetto - 1639 |
| QB | QB | QB |
| Eli Manning - 71 | Phillip Rivers - 318 | Kurt Warner - 218 |
| Ben Roethlisberger - 201 | Jake Delhomme (-75) | Donovan McNabb - 199 |
| WR | WR | WR |
| Steve Smith (CAR) - 155 | Larry Fitzgerald - 542 | Vincent Jackson - 173 |
| Hinez Ward - 222 | Desean Jackson - 254 | Steve Smith (NYG) - 7 |
| Santonio Holmes - 126 | Derek Mason - 269 | Mushin Muhammad - 180 |
| RB | RB | RB |
| Brandon Jacobs - 222 | Deangelo Williams - 171 | Chris Johnson - 273 |
| Mewelde Moore - 95 | Brian Westbrook - 144 | Derrick Ward - 203 |
| Jonathan Stewart - 176 | Darren Sproles - 376 | Willie Parker - 386 |
| 5 picks used - 1 picks remaining | 2 picks used - 4 picks remaining | 3 picks used - 3 picks remaining |
.
Review:
Pulpman, ravaged by losses to his roster, goes all in balls out putting all his eggs in one basket and covered it with a terrible towel. Risky of course, kind of like the bloodhound did last year with the Giants. And while the Giants won out, they did so defensivlely with little fantasy point rewards so he finished second. Pulpster no doubt hopes for a different result, but as I have preached, and paid the price for doing it anyway, betting on Big Ben is almost like sticking ones own proverbial, ahem, into ones own arse. But of course he had/has little choice. And of course a Pittsburg versus Giants Super Bowl would put him right back into the thick of things.
Africans look strong with lots of picks left and a full and diverse roster. And the gunslinger ghetto ran out of WR bullets but still has two gunslinger QBs and lots of potential home run hitters taking the field especially at running back. Time will tell...
Results:
There is basically a 500 point spread between each manager. ghetto takes hit by bailing on Boldin netting 7 points with the replacement WR Smith and will have to use a second of his 6 overall picks to refill that roster spot with Boldin again - or another WR. Still, he is within reach, but needs to draft well to have a real chance. Bugman looks strong with the lead and ample picks remaining but now picks last, probably in both the final two rounds. The Steelers, er, I mean Pulpman remains alive but with one pick left is in dire straights.
---
---
Week # 3 - Conference Championship Round

| | | |
| --- | --- | --- |
| Pulpman - 874 | Africans - 1437 | ghetto - 1118 |
| QB | QB | QB |
| Ben Roethlisberger - 275 | Joe Flacco (-21) | Kurt Warner - 379 |
| ------- | ------- | Donovan McNabb - 401 |
| WR | WR | WR |
| Hinez Ward - 174 | Larry Fitzgerald - 543 | Anquan Boldin - 114 |
| Santonio Holmes - 188 | Derek Mason - 132 | ------- |
| Heath Miller - 195 | Desean Jackson - 315 | ------- |
| RB | RB | RB |
| Mewelde Moore - 42 | Brian Westbrook - 148 | Willie Parker - 89 |
| ------- | Corell Buckhalter - 91 | Tim Hightower - 135 |
| ------- | Edgerrin James - 229 | ------- |
| 6 picks used - 0 picks remaining | 5 picks used - 1 picks remaining | 5 picks used - 1 picks remaining |
.
Review:
The Pulpsburg Steelers roster is set with all hopes wrapped in terrible towels. Scenarios for a possible Pulpman victory include a Steeler offensive explosion in the Super Bowl against a low scoring Eagle team would be bad for ghetto Cardinals in the Super Bowl beat down by Pittsburgh spells nail biting experience for bugman. A Baltimore win over Pittsburgh ends Pulpman's title defense and sets stage for 2 man finish. Pit Baltimore versus Cardinals for ghetto hopes, or versus Eagles for bugman title probability.
Brandon should increase his lead this week based on a fuller roster - 7 players as opposed to 5 each for the others. But Pulp's 5 is a "weak" 5 as all are on the same team so the likelihood of 5 good scores is lower. Bug will need that padding if the Super Bowl turns out to be Cardinal versus Pittsburgh as he will have only one premier scorer in the final round (Fitzgerald). If he doesn't create that padding and Fitgerald is held in check, he'll be watching the Super Bowl in an anxious, defensive mode.
Mistakes? Already getting your excuses lined up? A Pulpman failure would be relatively fault free - good strategy(s) that just didn't pan out. A bugman collapse would be built around this draft round and the results for the next 2 weeks so it's hard to build that case yet. Ghetto? Well, besides that Boldin, Smith, Boldin merry-go-round that used 3 picks, there is this: In my humble opinion, it was a mistake to not use up his last pick in this round. When you're behind, chances have to be taken. He needed an onside kick or fake punt. Sure, he'll probably get the first pick in the last round, but he needed two weeks worth of scores to set the stage for a late round upset. And that means grabbing the best player available now, and hoping you picked one off a winning team. That extra week's missing score could come back to haunt him.
Remember, it's far from over. With only a 500 point gap between each manager, the next three games will decide the next champion. If it doesn't all come down to a dropped pass, turnover, or even a one-yard run, it will be unusual because it usually has in years past. Good luck ladies....
---
---
---
Super Bowl
Scores entering Super Bowl:
Bugman 4912 ----
ghetto 4071 841
Pulp 3351 1561
| | | |
| --- | --- | --- |
| Pulpman - 1028 | Africans - 907 | ghetto - 789 |
| QB | QB | QB |
| Ben Roethlisberger - 238 | ---- | Kurt Warner - 289 |
| ---- | ---- | ---- |
| WR | WR | WR |
| Hinez Ward - 135 | Larry Fitzgerald - 442 | Anquan Boldin - 276 |
| Santonio Holmes - 440 | Steve Breaston - 235 | Nate Washington - 36 |
| Heath Miller - 186 | ---- | ---- |
| RB | RB | RB |
| Mewelde Moore - 29 | Edgerrin James - 230 | Willie Parker - 141 |
| ---- | ---- | Tim Hightower - 47 |
| ---- | ---- | ---- |
.
Review:
...
Bugman's worst possible scenario has happened - a Pittsburgh vs Arizona Super Bowl. Even though he was the top scorer again this and every round, had the most diverse roster, and had
a 7-5 player advantage this week, he was looking for that knock out punch. Using a baseball analogy, he was batting in the top of the ninth inning with the meat of the batting order up, looking for a couple of insurance runs to take to the bottom of the ninth. But he left runners on base and only stretched his lead by 319 points over ghetto
. So he doesn't go to the final frame up 7-4, instead nursing that 5-4 lead. What happened? Buckhalter and Flacco, 2 of his 3 picks last week, combined for 71 whole points, and Westbrook got limited touches and points due to an early Arizona lead. All the advantages he held in the first three rounds are suddenly gone - most players on his roster, a diverse roster, players winning and coming back for the next round saving him picks - all gone. Now he finds himself with one lone star who is sure to draw the attention of the league's number one defense. Still his strategy has panned out. He got the big early lead; now comes the hang on for dear life part. Fitzgerald has over 1400 of Bugman's 4900, or about 30% of his total points. If he gets his post season average against the Steelers (473 pts) he will be tough to beat. But, if the Steelers double team him and hold him in check, and Arizona still moves the ball (especially with Boldin picking up the slack), he could be watching the final minutes of the Super Bowl with a pad and pencil in hand, cursing the TV during one play and high-fiveing friends on another. Could be a typically tight finish...
...
ghetto will get to pick first and will have a 5-3 player advantage in the Super Bowl. More importantly he will have a 3-1 advantage as far as premium player advantage goes. Base hit; tyeing run on base, nobody out. Although outscored in every round, it was always just by a little bit. Only down 841 points, the math he is banking on is simple. He now has his meat of the order due up for the bottom of the ninth. He needs Pittsburgh to double team Fitzgerald and keep his score modest, and have the Warner-Boldin combination rule the day. Fast Willie should have better numbers against the Cards than he did against Baltimore as well. Throw in some decent numbers by Hightower (shrewd pickup that Bugman passed on) and poor ones by Edge (along with his typical goalline fumbles) and, well, let's just say Bugman won't have any fingernails left at games end, regardless of the outcome. Too bad ghetto's crystal ball couldn't snag up those 380 points left on the table by Kevin Curtis or Celek's 315 this week. Yeah, they lost, but he will be lucky to capture that kind of point totals from the pick he makes this week. Number three hitter strikes out. One out, cleanup hitter on deck. Tyeing run on, winning run at the plate. A hit will extend the game, a
double up the line
might tie it. A home run will win it. A ground ball could be a season-ending 6-4-3 double play. Heeeer's the pitch... Sure, there's a lot of if's that have to pan out for a ghetto win, but the possibilities for a last round upset are definitely there....
...
And Pulpsburgh? Well, the Steelers are doing to him what the Giants did to the bloodhound last year. They are winning and keeping him alive, but they're winning with defense and not scoring a lot of fantasy points for him. A lopsided Pittsburgh win could make his final score look better than it currently does, but the odds of overcoming Bugman's 1561 point lead are slim indeed, but by no means impossible. Do the math. His Pulpsburgh roster tallied 874 points against a tough Raven defense and only scored one offensive TD. Say they double that score against a suspect Arizona defense, or even more. He surpasses Brandon. Will Fitzgerald and Edge get Bugman back on top? Or does Fitgerald get double teamed and post poor numbers? And Edge gets 16 yards rushing on 12 attempts? All of that is quite possible, but it all has to happen just right. Look at how many things could go right, but the wrong way for Pulman. An early Steeler blowout means running game and defense take over. A two way offensive bonanza means points IF it's the Steelers throwing the ball a lot, BUT the other two managers are getting points too. So there are a lot of pieces in that jigsaw puzzle, and

two

managers to polevault past. But remember this: A) he polevaulted past me in the financial league taking his only lead of the season - and the championship - in the final week. That flip flop also put him out in front in the Championship Manager Points Series. B) He polevaulted past me in the head-to-head league in the final week to sneak into those playoffs, then beat ghetto in the playoffs for another championship - from 5th to first place in a 3 game span. Then C) he polevaulted past Bugmans 10K week 17 and outscored him by 3,000 to steal the regular season title from bug - winning another championship in the final week. So he seems to be doing a lot of polevaulting at the last possible second this year. Begs the question: is he done, or does he have everybody right where he wants them?
...
Crystal Ball? If I were a bookie I would put the odds of an African Championship at 60%, ghetto at 35%, Pulpman at 5%. That equates to 3 in 5 odds for the Africans, 1 in 3 for ghetto, and 1 in 20 for the defending champs. Bottom line? Still too close to call.